CCHS is a community workshop run by an enthusiastic group of like-minded members, located in Hawthorn, Victoria. Visitors and new members of all skill levels are very welcome. The About the CCHS page has more details. CCHS is also known as the Melbourne HackerSpace or HackMelbourne and is one of many Australian HackerSpaces.
---
View all blog posts
Gil has been posting videos about his Maker journey and last month created a walkthrough for the Connected Community Hackerspace.
Gil's YouTube channel has a number of Maker projects and updates and can be found here: Gil's YouTube
We're setting up a welding area at CCHS – recent visitors will have noticed the strange 250mm semi rigid ducting running across the ceiling.
Last night we added a welding table, located next to the vending machine. Its not as heavy as it looks, and can be pulled forward to enable easier welding access.
We'll be soon putting up a frame that'll make dropping down the welding curtains nice and easy, and hooking up the extractor fan.   Longer term, we hope to upgrade the welding table top to something with 16mm holes on 50mm pitch, for use with special quick setup welding clamp set.
The welding table also provides a home for the vac former, which is quite light and can be moved to an adjacent bench (the workbenches in that area are all the same height, at the moment…)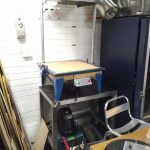 2017 was a great year now bring on 2018! These are just a few pictures from the goings on this month!
So come on down 5 Kent Lane Hawthorn.
We are running the following sessions:
Monday nights: C & C cutting, 3D printing and laser cutting.
Tuesday nights: General Session: Come and build things (software, hardware, see what is going on in our space!)
Wed night: (please check the calendar as these sessions might not run to schedule.
1st Wed of the month: Nodebots: Come and build robots for kids to adults. A great for learning beginners.
2nd Wed of the month: Drone Club: Build drones and talking about Drones
3rd Wed of the month: Autonomous Vehicles building DIY Robo Cars
4th Wed of the month: MicroPython Meetup: using python in embedded devices.