CCHS is a community workshop run by an enthusiastic group of like-minded members, located in Hawthorn, Victoria. Visitors and new members of all skill levels are very welcome. The About the CCHS page has more details. CCHS is also known as the Melbourne HackerSpace or HackMelbourne and is one of many Australian HackerSpaces.
---
View all blog posts
If you were inspired by the Dick Smith funway kits, pop down to CCHS tomorrow.
Karl von Moller will be filming, more info from Karl here
We'll have the bbqs running and the footy on one of the 3 big screens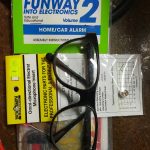 CCHS recently played a pivotal role in the Melbourne Knowledge Week 2016 maker faire at the 1000 Pound Bend cafe. It was a huge success with appearances from a number of Melbourne's maker groups who all put on a fantastic demonstration of what can be achieved through knowledge and making.
A big thank you to everyone who helped put the event together, everyone who brought something along to show off, and to our hosts for having us!